I've always enjoyed taking pictures. I don't recall having a toy camera as a child, but I do recall taking photos with my dad's cameras. He always had one for family visits and road trips and I was sort of his assistant – holding the camera, loading the film or taking photos when he wanted to be in them. I even got into making photo scrapbooks of my school years, beginning in 6th grade. I didn't really like BEING in photos but I liked taking them and sharing them with others.
When I graduated from college in 2001 with a B.A. in Mass Communication, my intention was to go into radio, but News is where I ended up. While working in news I was still exploring career options and took courses to get certified to teach.
My goal was to teach English or Journalism in high school and be the inspiring educator that helped another young person find their calling, like my teacher did for me.
I was taking courses at two different schools (a university and a community college) to fulfill my certification requirements, and had to choose some electives.
After so many courses in Psychology, Education and English, I wanted something creative to fill my electives. Luckily the community college had some media courses and I chose to take an Intro to Photography course. I thought it would be easy, but didn't read all the requirements. This was around 2002, just before everyone and their uncle started shooting with digital cameras, and unfortunately -- I had to shoot with FILM.
At first, I thought I'd hate it. I thought anyone who'd spend all day in a stuffy dark room developing negatives into prints had to be crazy. But after my first assignment -- during which I completely mangled the negatives but still came out with a great print -- I was hooked.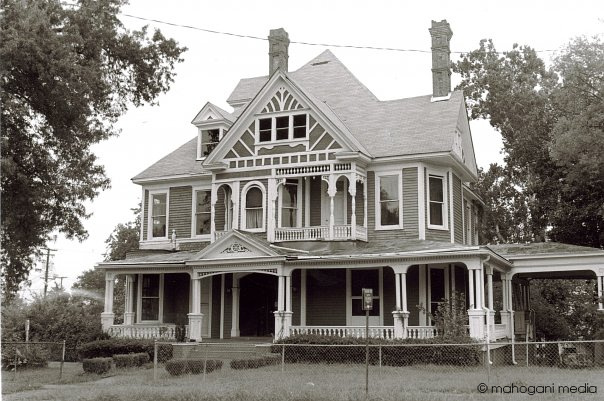 One of the first images I shot from negatives I developed!
After receiving praise from my instructor that I was able to get ANYTHING off the destroyed negatives, I felt like I had accomplished something by turning a negative (no pun intended) into a positive.
A few assignments later, I had to do a portrait. I did one of my nephew, and one of my brother's dog. My instructor told me that of all the different areas of photography that we'd done projects on, I had a knack for portraits and he suggested I look into that area of specialty.
I was a production assistant at a news station, studying to become a teacher, and now I had a future as a photographer? It was pretty far-fetched for me. The course was really just my attempt at an easy A. I wasn't an Art major like most of the other students.
The only reason I even considered his suggestion (for a minute anyway) was because this was a successful media/arts professional guiding me in that direction. But after some thought, I decided to focus on the task at hand (certification) and just keep photography as hobby.
After a year or more of courses toward certification my dream was shattered by my main university. Admissions rules had changed without my being notified and I'd wasted several semesters and lots of out-pocket-expenses but could go no further. So I left the program.
In 2007, I left news for good (after producing at multiple stations) and spent time on some area film sets as a production assistant. When my jobs were over, I decided to take some courses at that same community college to refresh my videography and editing skills (with digital equipment).
Needing money to help pay for classes, I somehow snagged a part-time job at a retail store that was about to open a new location -- with a brand new photography studio. I thought since I already knew my way around a camera, and dark room, it would be a piece of cake. Unfortunately, all the studios had gone digital, so I had to learn all over again.
Digital Studio Life was not as easy as I'd thought it would be, but I finally got the hang of it (despite some sour attitudes among my managers and co-workers).
I guess I got pretty good at my job because customers started asking me if I did photography on the side and asked for my number to contact me for outside shoots. I was told by managers and co-workers that this was against the rules of employment, but found out that many of THEM did photography on the side (guess they didn't want more competition). So, I started doing some research on branching out on my own.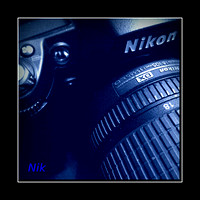 my one and only - Nik
In 2009, with help from my Dad, I purchased my camera and my journey as a freelance photographer began. I continued working at the retail studio and even did a stint as a seasonal photographer doing school pictures for private studios (to pay my Dad back).
By mid-2010, one year after starting as a freelancer, I wanted to do nothing else. Being outside of the constraints of the studio, being able to create my own concepts, styling the models and having total creative control was exciting and inspiring. I was hooked.
Studio Life had become so humdrum and monotonous, and I wanted a change.
So after three years, I left -- and I haven't regretted it once. (They actually closed the studio due to low sales a couple of years later, so it was probably a good decision lol).
I never imagined for one second while taking that course so many years ago that I would end up right where my photography instructor told me I should be. I became a portrait photographer, and was good at it! Just like he said I would be. And now I take pictures of people for a living … not to mention all the other services I provide. What started as just an elective course, ended up being a part of my media journey (just like my high school journalism course, so listen to your teachers people!J).
The moral of this story is that you never know where your journey will take you. What you may think is just a hobby could be the talent that helps you fulfill your destiny. If I would've listened to my photography instructor back then, who knows how far ahead I'd be now.
But I'm thankful things came full circle and I was able to take advantage of those opportunities later … because now I'm truly living my purpose.
- m