In the five years MM has been in the market, I've been asked a lot about my logo. Well, to be honest, it was an accidental creation by yours truly.
I'd commissioned a couple of graphic designers to create one for me, but being the picky perfectionist that I am, none of them seemed right.
A logo is so crucial to a brand. You have to choose it carefully because it will represent who you are every single time someone sees it.
I didn't want something cheesy or over-the-top. I wanted it to represent who I am as a creative mind. I wanted it to be bold, but not obnoxious and evoke a response the second someone saw it.
When the graphic designer submissions didn't work out, I started playing with fonts on Microsoft Publisher (don't judge me, I'm not a designer lol).
I knew that I want to incorporate the Virgo sign somehow because I was proud of my zodiac sign and the creative power behind it. I also wanted to incorporate my favorite color Blue (which most think is because I'm a member of Zeta Phi Beta, but it was my fave long before Zeta lol)
After trying many different options I deleted everything but the sign itself. I paused and then sat there staring at it for a moment and thought – why not just the sign?
It was an M, which represents Mahogani and Media, and it represented me as well because I was the Virgo. One letter, one symbol, one brand for us all!
Original MM logo, created in 2009 by mahogani
So I created the original logo ----->>>
A year later, when I finally decided I wanted more professional business cards, the logo was upgraded and revised by my graphic designing friend (and fellow photographer) Teneatha Daniels (of TD Creations). That is the logo I have used ever since: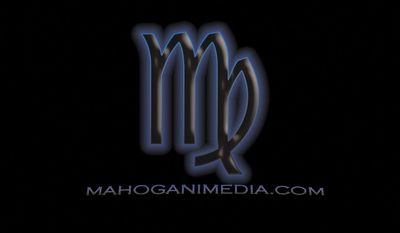 New/Current MM logo - revamped by TD Creations in 2010
Unless they're fellow Virgos, most people don't recognize the sign and assume it's just an M for Mahogani/Media. And I like that.
There's still a hint of me in the logo, but mahogani takes the spotlight and I'm hanging backstage – and that's fine with me! Honestly, that's how it's always been. (LOL :)
- m