[Sorry for the delay! I'd written an entire other post but accidentally deleted it, so I'm going to try to recreate it ... ]
MM Celebrates 5 Years!!! (graphic created by ForthCeed Pro Designs)
At a local open mic, earlier this week, I was asked if April 18th was the day Mahogani Media was created.
And to that I answered No.
If you read my previous blog on the history of MM, then you know that (technically) it was created over a decade ago. But 2009 was when it was officially introduced to the public.
The significance of April 18th? It was the date of my first PAID shoot under Mahogani Media.
After months of doing free shoots and event snapshots to build my portfolio, a friend of mine booked me to shoot an artist he was managing at the time.
She was a recent transplant to the SBC, had a degree in audio engineering, had just scored an on-air gig at a local radio station -- and she was a dope rapper as well. Her name? Young Nisa.
We met up at a local recording studio (what is now Amore Studios. I believe it was in transition/renovations at this time).
Her manager (my friend) used his new connection at YUMS Clothing to get her some gear to shoot in ... so these were not only promo shots for her upcoming mixtape, but also potential advertising images.
Nisa was all for it and seemed fearless. Inside, I was a ball of nervous energy but tried not to let it show.
She and the manager pretty much let me guide the shoot. So I decided to use my portrait studio and event photographer skills to take advantage of the limited space.
We did some shots at the board, at the mic, and some other nooks in and out of the recording booth.
We even got some shots in the pitch-black entryway between the recording studio and what I believed to get a lounge/reception area.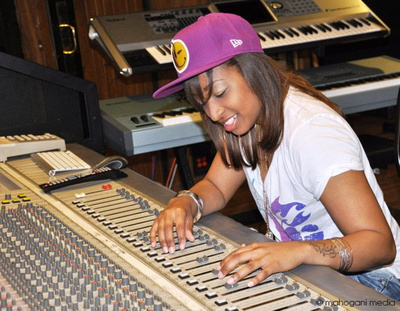 I was very nervous, but I got through it. Nisa was cool to work with and very receptive.
Even with the limited space and no additional lighting, I think we got some awesome shots.
My favorite went up almost immediately online:
Not long after the shoot, I found out that YUMS had chosen one of the images for a banner ad on their website. Less than a year into freelancing, I had an image in an ad!

It may not have meant much to other people but I was elated ... and it gave me drive to do more. I started reaching out to more artists I knew because I saw the crossover potential to get my work out there.
Family portraits are cool, but I like concepts and variety.
Though I've had some awesomely creative portrait clients, I tend to have a lot more creative control with models and artists. And that fire to transform noting into something amazing was sparked in me from that very first shoot.
I've worked with dozens of local artists since. Each a collaboration to showcase both of our talents.
MM Celebrates 5 Years!!! (graphic created by ForthCeed Pro Designs)
As I look ahead to the next five years, I realize that I want to explore other areas of commercial photography, like editorial/fashion.
In an effort to learn more and work more in that area, I think I'm going to start straying away from the saturated genre of individual and family portraiture.
Of course, I will still do them -- I would never deny my clients! lol. But as an artist -- I need to spread MY wings and fly to the top.
I'm forever grateful for that first shoot. That first opportunity to get paid for my work and be allowed to show what I can do. It set me free creatively.
I'm thankful for every individual or business that hired me thereafter. You've helped me on this journey as an artistic entrepreneur.
I'm thankful for those who didn't hire me or denied me as an artist/professional --- you made me work harder.
I'm thankful for those who guided me in the beginning, who I've met along the way and those who are still around today. Loyalty is Everything. I appreciate it.
Most of all I'm thankful to the Creator for this gift that has literally saved my life and brought me out of the darkness many times over, and continues to bring happiness to my life and the lives of my clients and supporters.
Thank you for the last five years, and Cheers to the next 5, 10, 20 ....
xoxo - m