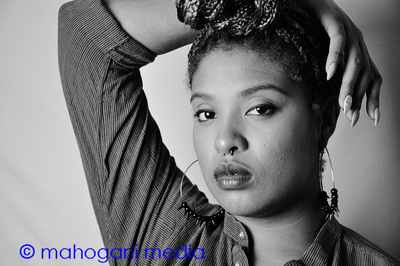 I first met Blythe Dennis at a local open mic called Words Over Lattes (at their first location).
The songbird was appearing with the special guest band, New Balance Band, and her sun-kissed natural hair, statuesque frame, and sultry vocals had me mesmerized.
Blythe and I became friends on social media thereafter and as I followed her life and career via the internet, I came to know she was just the beautiful spirit I thought she was when I saw her on stage.
As she prepared to release her debut R&B/Soul mixtape (Covers), I saw that she was doing photo shoots and asked if she'd shoot with me as well.
At the time she was in Dallas but we coordinated for her to shoot with me when she was doing a studio session in Shreveport. Though she was visibly tired and still had a 3-hour drive back after our shoot, she gave me everything I expected – part diva, part model, and the perfect mix of sensuality and serenity.
I chose the hybrid urban/rustic backdrop of my apartment complex and we went to work …
As we got through the first few frames she asked if she need to hide her nose piercing. I told her NO! I wanted her to be herself and as comfortable as possible.
Though my styling wasn't the bohemian-chic clothing she said she was used to wearing, it fit her and she served the lens just like I thought she would. She also helped to model some pieces by a local accessory line, Layman's Creations, giving me one of my favorite shots of the entire session:
It always brings me joy to capture the essence of an artist, as well as to take them out of their comfort zone a little and show a different side of them to their audience. Shooting with Blythe was such a pleasure and I hope to do it again one day soon.
See more shots I took of Blythe in the ARTISTS & PERFORMERS album.
Check out BLYTHE's music HERE.
Also, find her on Facebook, Instagram and Twitter.